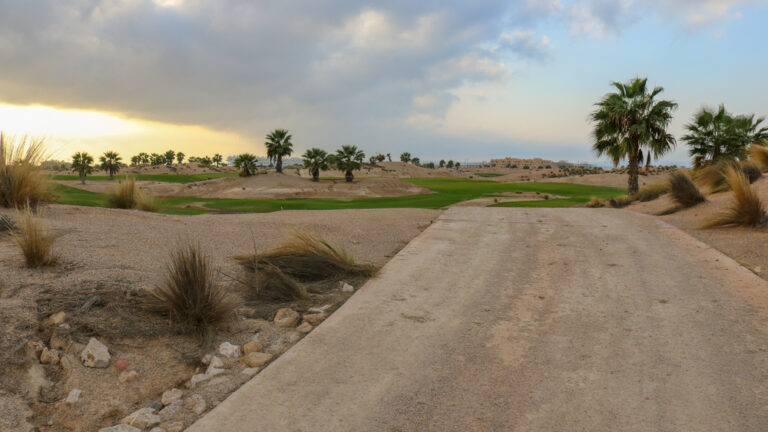 At UGolf, we are more than a golf operator; we are a passionate community dedicated to providing unrivalled experiences for golf enthusiasts across Europe. In Murcia, the combination of world-class golf courses and idyllic surroundings makes this Spanish region a must-visit destination for amateur and professional golfers alike. UGolf Murcia offers a trilogy of exceptional courses: Mar Menor Golf, Hacienda del Álamo and Saurines de la Torre Golf, each offering a unique experience.
Mar Menor Golf
Mar Menor Golf is located close to Torre-Pacheco. Designed first by Dave Thomas on the front nine and then by Nicklaus Design on the back nine, this course offers unique variety at every turn. From wide fairways to challenging bunkers and lakes, Mar Menor Golf offers the perfect balance of elegance and challenge. The impressive lake surrounding holes 13, 14 and 15, known as the "amen corner" of Mar Menor, adds an extra challenge to the course.
In addition, at the practice facilities at Mar Menor Golf allow golfers to hone their skills in idyllic surroundings. Just a short walk from the course, the Hotel Ona Mar Menor Golf & Spa Resort and The Residences apartments offer first-class accommodation for those seeking a complete golfing and luxury experience.
Hacienda del Álamo
Hacienda del Álamo is one of the most outstanding courses in Murcia. It is an 18-hole championship course that blends in perfectly with the natural surroundings, with large greens and strategically placed hazards that offer players an exciting challenge. In addition to the 18 holes, the course has 6 short holes for all handicaps, a bunker area, chipping area, a putting green and a practice area with the possibility of playing on mats and on natural grass.
The Hacienda del Álamo Clubhouse offers an exquisite dining experience and panoramic views that will take your breath away. And, for those who wish to extend their stay, the Ona Hacienda del Álamo Golf Resort offers a range of rooms and apartments to suit all needs, from short breaks to longer holidays.
Saurines de la Torre Golf
The innovative design of Saurines de la Torre Golf evokes the grandeur of the desert courses of Las Vegas and Arizona, created by the legendary Jack Nicklaus. With undulating fairways between sand dunes and greens, this course is a challenge for golfers. In addition, the uphill greens from the fairway add an extra layer of difficulty, making every shot count.
Ranked 39th in the Best Courses in Spain by Top 100 Golf Courses, Saurines de la Torre Golf is a destination that appeals to golf enthusiasts looking for a challenging and unique experience.
Enjoy the best golf in Murcia with UGolf
Murcia, with its exceptional climate and modern infrastructure, is a dream destination for golfers. Our three courses are located in the heart of this beautiful region and offer not only exceptional golf courses, but also a complete experience that combines sport with luxury and comfort.
At UGolf Murcia we are committed to excellence, constant innovation and respect for our environment. We care for the environment around our facilities, implementing sustainable policies that reduce plastic waste and preserve local flora and fauna. We also offer comprehensive golf development services, from design to marketing, ensuring the quality and impeccable maintenance of our courses.
Don't wait any longer to experience the thrill of golf in Murcia, book your green fee now and discover why we are one of the preferred destinations for golf lovers!